Origins of Broadway
Broadway Baptist Church began as the "Northside Mission" of Bethel Baptist Church on March 20, 1955. Twenty members of Bethel Baptist and another married couple held the first Sunday school class and worship service on March 27, 1955. They purchased 2.5 acres at what is now 1135 N. Broadway for $5,500 and formally organized as Broadway Southern Baptist Church on June 26, 1955. They worshipped in a big hay barn adjoining the property until the building was completed.
The below picture was taken on the occasion of the 50th anniversary on June 26, 2005.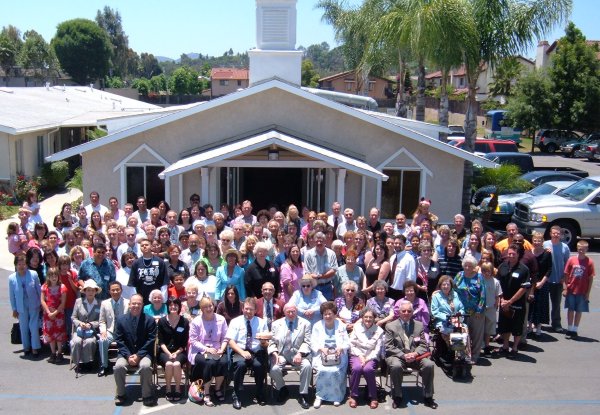 Our Pastors
The following are the Senior Pastor's that have served during Broadway's history.
| Pastor's Name | Starting Date | Ending Date |
| --- | --- | --- |
| Donald D. Garrett | June 26, 1955 | July 21, 1959 |
| Aubrey Short | Aug 1959 | Nov 1959 |
| Willie Hazel | Dec 6, 1959 | Jun 1962 |
| Don Venosdel | Jul 16, 1962 | Apr 10, 1966 |
| Elton McPheaters - interim | Apr 1966 | Sep 4, 1966 |
| George Ray | Sep 4, 1966 | Jan 30, 1970 |
| Troy Manley | Feb 1971 | Apr 1971 |
| Curtis Puryear | May 1, 1971 | Nov 20, 1974 |
| Richard Smith - interim | Dec 8, 1974 | Jul 20, 1975 |
| Robert E. Cagle | Jul 27, 1975 | Feb 23, 1979 |
| Grady Estes | May 23, 1979 | Dec 1981 |
| Randy Bennett | Jan 21, 1982 | Jul 5, 1987 |
| Ray Watt - interim | Aug 1987 | Oct 1987 |
| Dwayne Adams - interim | Nov 1987 | Feb 21, 1988 |
| Lonnie Johnson | Feb 21, 1988 | Mar 21, 1993 |
| Richard Smith - interim | 1993 | 1994 |
| Charles W. Foley, Jr. | Aug 14, 1994 | Dec 26, 1999 |
| Jack Rickman | Dec 26, 1999 | Present |